SEOContent Queen
May 03
Keep Marketing People! 
May 10
[video]
Jan 16
Cover It Live: Professional Live Blogging Platform
Ready for the latest in online blogging technology? I'm so excited to be a fresh new signee of Cover It Live.  CIL is used by big industry media organizations for the likes of ESPN and Yahoo and the BBC to share content with their audience in live chat form. From their interface you submit content to your online viewers who wait for your every message whether it be in video, image or mp3 file form. You can submit poll questions from scratch or send them as a saved link in your database storage. I think this is a great interaction between publishing and live media. Not everyone is equipped with the talent for video blogging but many writers would like instant feedback and the kind of quick response that is usually garnered from video blogs. Cover It Live is that perfect solution. The basic package covers a generous 5,000 users/month for free but it doesn't have all the add-ons that make the blog profitable like subscription fees, ad support or their fully integrated partnership tools with Demand Media. 
Jan 11
Canvas Pop + Instagram : Mobile Media Art
The awesomely social media mobile application Instagram has made almost instant success among the young and camera phone pic friendly crowd. I also use Instagram but I haven't given it much attention lately. Instagram allows you to take your regular shoddy phone pics and turn them into stylized works of mobile phone art. You can then share these photos with your Instagram friends, of which you should easily have plenty since Instagram truly is the people's choice these days. Anyway, Instagram hasn't even reached the peak of its popularity and already they've created a great partnership with an online picture canvassing company.
Now Instagrammers can pay about $30 to have their phone pics turned into canvas art. The quality is just as great in print not missing in clarity at all. You can get started with creating your prints by visiting the canvas pop shop here.
Want More Online Marketing Tips?   Try:
Marketing For Service Industries: 1 SEOtip You Will Steal 
SEOContentQueen lives and breathes Marketing and Los Angeles smog. She wouldn't have it any other way. She also loves mentions @SEOContentQueen.
Jan 10
Using Boomerang App for Link Building Prospects
Earlier today SEOBook shared a post on a Google Application that will do wonders for keeping up with link building prospects. Boomerang fits nicely on your Google toolbar and you can install it here. When composing a message you can select the "Send Later" boomerang tab to schedule when you want that link building proposal/email to go out. This is super helpful for SEO's who work during hours that aren't conducive to getting a response. With high traffic or high page rank bloggers link proposals are a dime a dozen and those often get mixed up with other promotional or spammy emails. You increase your chances of getting a fast next workday response if you schedule your email to go out say, 8am the following day.
The best part about this plugin is its "Boomerang-Like" quality. By selecting the boomerang box you can have your message returned to you if it gets no reply from your prospect. It's like a virtual return-to-sender! This feature is golden considering any more than 5 emails going out at a time is enough for you to forget about the ones who have not replied to you in the midst of those who actually want a response or post from you. You can have your messaged boomeranged by the hour, day, week and month or even a specific timestamp.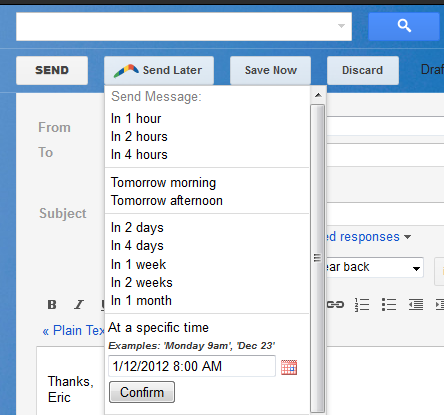 This plugin is also great for small business professionals and salesman who manage large lead projects on their own.
SEOContentQueen lives and markets in Los Angeles. Follow her friendly tweets @SEOContentQueen.
Dec 08
Evernote: Desktop Filing and Idea Organizing Software
Evernote has just launched their 2 iPhone applications "Hello" and "Stitch". These are are really cool additions to their desktop and mobile file capturing system.
I stumbled across it while looking for desktop filing and organization software. I'm a newbie user but so far I love how beautiful and easy this program makes projects for me. Sticking documents in a regular file folder doesn't work when you still have to sift through dozens of files. With Evernote I can SEE the files that are being put away as depicted below. 
You can also search for each file by keyword and tagging. Don't worry if you don't have time to go in and tag all your files yourself. Evernote can call up the text within any of your documents much like Google mail so even if you forgot to properly label, you should be able to find your file. You can use Evernote from your mobile phone to take snapshots of business cards and other images. Here's the kicker as quoted in my Evernote startup message:
"Evernote automatically makes text in your snapshots searchable!"
I plan on using it to organize my thoughts while I'm planning for trips, projects and design drafts. You've gotta check it out for yourself!
Dec 02
What To Buy Your Queen (of content ; ) for Xmas!
Well, duhhh we like our writing and if you're girl is a classic beauty like moiii, she'll want new pen and paper. Don't underestimate this fellas. There is nothing like receiving fresh sheets of clean white paper and a shiny pen filled with dripping wet ink! 
This gorgeous Louis Vuitton Notebook is currently on my hit list! I love Louis Vuitton products because there is no more of such a simplistic and iconic couture line of accessories. Besides if you have to write great content, you might as well write in style. I don't think LV currently sells this but you might be able to find indie sellers of the notebook if you search for it.
Spiral Notebook (clipped to polyvore.com)
I decided to add this one in for kicks. I found a pen truly fit for a queen. The limited edition Boheme Papillon fountain pen retails for $230,410. Sheesh. That's like high end jewelry with ink!
But here's the heavy duty I use. An ATX Basalt Black Selectip Rolling Ball Pen. It's only $55- 70 depending on if you catch it on sale. It's just as beautiful in black and chrome and comes with a lifetime mechanical guarantee and it's own unique gel ink formula. 
Enjoy your holiday season and don't forget to splurge on yourselves!
Find my face on Twitter. I'm very friendly!  @SEOContentQueen 
Other Cute Little Posts:
Tweeting and Posting: The Joint is Laced
How To Find Graphic Design Talent
Nov 10
Mexican Bloggers Murdered Over Posts
Nov 03
Marketing for Service Industries: 1 #SEOtip you will steal.
If you're in the service industry and are looking for new ways to gain marketing leverage you will love this post. So, lately I've been on a roll with giving out all these money saving marketing tips. Must be the inner frugalista in me. This one actually came from working with one my clients so it has been proven, tested and is a significant winner.
If you provide a professional service and would like more clients you should definitely consider putting up an ad on Craigslist.org. I LOVE Craigslist and it has gotten me everything from a roommate to antique furniture and cars. But it also has sections on the site for "professional services". After crafting a great craigslist ad my client was able to reap the benefits of a 12% increase in sales within one month! That may not be a lot but it sure is pretty significant. The reason Craigslist ads work so well is because they actually rank very well on Google's SERP. Think about it, Craigslist is a cesspool for user generated content. Why wouldn't Google love anything from ol' Craig? There are only a few things you need to do to make sure that your post is optimized and ready for debut:
1. Generate a keyword list of about 100-150 related words and phrases. (yes, that many is necessary) The great thing about it is that Craigslist actually allows you to put these keywords in the bottom of your post for publish.)
2. Use an SEO title and body of content. So if you are a plumber:
"Certified Plumber in Seattle" 
3. Use PICTURES. Trust me, they don't have to be professionally done. Simple candids will do as long as they exhibit good work. Ads without pictures are almost 80% less likely to get a call.
4. NO ADS. Do not use this opportunity to write an ad filled post. You can certainly offer your price (and I highly suggest it) but please, please don't waste this on: "$15 Facial!!!" "Get it while it lasts!!!" Craigslisters will pass you by. Remember this is a community site so people expect to hear from real people who have honest intentions on providing good work.
5. Reconsider your pricing. Craigslist is for the customer who needs a deal. They have great potential to become repeat customers once they've tried you out but you don't want to scare them away with your non-discounted peak holiday pricing. Don't work for free but certainly a small break on your price is worth repeat sales.
Alright happy Posting! 
Other Posts You Might Like:
"Choosing A Business Domain Name"
Oct 26
My Mailing List Buying Alternative: Only in Theory or Golden Idea?
So yesterday I sat thinking about new ways to market a client working in home services. I've decided - and please spare me you stones- to use direct marketing mailing lists as a part of our overall marketing strategy. I know my client, although eager to invest in marketing (God, I love those clients) is a bit strapped for cash    (Damn, I hate when that happens). Immediately my mind goes into resourceful mode, thinking up ways to cut marketing cost corners. So for fun, I came up with the following plan. Only I'm not so sure it will work. Lol. What do you think? 
                                                MY PLAN
1. Instead of buying mailing lists, I'll use Google Maps.
2. I'll take one of my client's customer's address as a starting place.
3. I'll enter the address in Google maps and find other homes in a 5 mile radius.
4. I'll collect all possible addresses in a spreadsheet to use for the mailers.
5. I'll continue doing steps 1-4 until I've created one hefty mailing list.
That should work……right?
Well, don't judge me. You never know what you'll come up with when you need to save a buck.
*SEOContentQueen in no way admits to actually spamming or endorses the act of spamming. Seek the guidance of your local legal system regarding spam laws. ; )